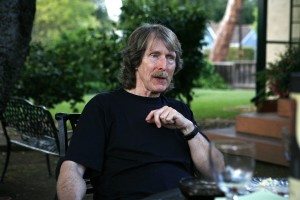 WILLIAM FREDLUND obtained his BA and his MA from UCLA where he specialized in European history and Art history. After independent study in Europe, Dr. Fredlund came to Stanford University to pursue graduate study in history and humanities where he specialized in Renaissance Italy and completed a Ph.D. in both history and humanities. Dr. Fredlund studied in Italy on a Fulbright Fellowship where he began work on his book about Renaissance Italy.
While living in Italy, he lectured extensively in Florence for American university programs such as those of UCLA and University of Michigan, as well as for University of Florence. In the United States, Dr. Fredlund has taught for UCLA, Stanford, and UCSC-Extension. Dr. Fredlund is currently writing a book entitled 1494: The Year the French Discovered Italy in which he explores the extraordinary changes that occurred in Italy during the crisis of 1494.
In the photo above, Prof. Fredlund is seen sitting under the two hundred-year old oak tree at his home in Los Altos.
NORMA FRIES ON COINS
VARIOUS FREDLUND LECTURES
FOR WHICH A PDF COPY IS HERE POSTED
Click on the blue link below and it will open a PDF document that will download and then you can save it to your desktop.  Be patient, it may take a minute to download. This includes all the pictures but no sound.
All Roads Lead to Rome Lecture Three (Jan 18, 2020)
PART ONE
3.allroadsleadtorome.PART ONE
PART TWO
3.allroafsleadtorome.cerveteri.PART TWO
James Tissot (Jan 2020) tissot.1.3.20
Nicene Creed Notes (June, 2018) Nicene Creed
Nicene Creed Lecture Video
GREAT CITIES
Basel (July2019) basel.7.31
Copenhagen (July2918) copenhagen.7.10.18
Geneva (Aug 2018) geneva.8.8.189
Lyon (Aug 2019) lyon.8.7
Petersburg (July 2019) stpetersburg.7.9
RENAISSANCE MASTERS
Giotto (June 25, 2018): giotto REN MASTERS 2018.6.24.18 X
Fra Angelico (July 2018) angelico.9.5.18X
Filippo Lippi (July 24, 2018) 5.lippi.7.23.18.X
Titian (Aug 2018) 8.titian.8.6.18
Raphael (Aug 2018) raphael.8.19.18.Xkey
ART OF NORTHERN EUROPE SUMMER 2019
Jan Van Eyck (June 2019) van eyck.6.25
Rogier Van Der Weyden (July 2019)Van der Weyden.7.1
Hieronymous Bosch (July 2019) bosch.7.8.19