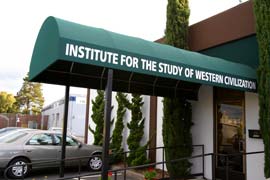 The Institute for the Study of Western Civilization is located at 10060 Bubb Road, Cupertino, CA, 95014. We are directly across Highway 85 from De Anza college in Cupertino, just south of Stevens Creek Blvd.
Directions
From Highway 85
Exit at Stevens Creek Blvd, heading west (headaway from De Anza College).
Turn left onto Bubb Road (first street west of Hwy 85).
You will see a 76 station at the corner. The driveway for the Institute is the first on the leftafter passing the 76 station. Merge into the available center left-turn lane and turn left into the parking lot.
Drive to the back of 10060 Bubb and you will see the entrance to the Institute.
Map