The Awful Truth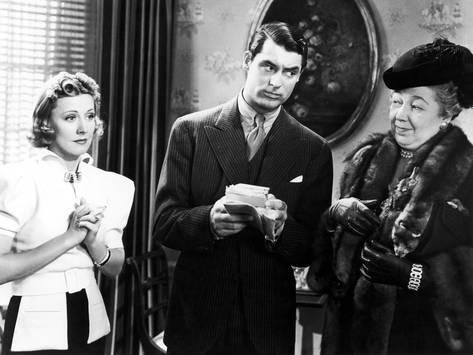 USA, Columbia, 1937
Director: Leo McCarey (Academy Award, Best Director)
Cast: Cary Grant, Irene Dunn, Ralph Bellamy.
"The Awful Truth," a comedy starring Cary Grant and Irene Dunne, directed by Leo McCarey in 1938, is one of the greatest romantic comedies in the history of American cinema. More specifically, it belongs to the genre identified by the philosopher and film scholar Stanley Cavell as a "comedy of re-marriage." That is, unlike traditional romantic comedies, which focus on the difficulties and misunderstandings of courtship between young lovers, a comedy of re-marriage is about two people who have been divorced and who know each other all too well. One of them is on the verge of a second marriage, which creates a certain amount of suspense: will the estranged couple somehow resolve their differences before a disastrous divorce and second marriage take place? When a highly strung Cary Grant is the estranged husband, and gentle, but somewhat dim-witted Ralph Bellamy is the potential groom, there is plenty of room for comedy. And the director, Leo McCarey, knew something about comedy, having begun his career directing Laurel and Hardy and the Marx Brothers.
Of all the great actresses in the romantic comedies of the thirties, Irene Dunne was the most mature. Born in 1898, she was already over 30 when she made her screen debut in 1930. (In contrast, Jean Harlow was 26 when she died.) She had a certain dignity or gravitas on the screen, and preferred to play serious roles in weepy melodramas. But she is treasured now for the great comedies she made, and in particular for the ones she did with Cary Grant. Her character is smarter than his: "more knowing than Grant, yet graceful enough to watch him catch up, without letting him feel it" (David Thomson). The result of is a perfect balance of comic aggression and romantic tenderness!