ENGLAND AND THE FRENCH REVOLUTION
AS INTERPRETED BY EDMUND BURKE. (1729-1797)
There are few political books that have sustained interest over the centuries as has Edmund Burke's Reflections on the French Revolution. One reason may be that it seems prophetic. He wrote it early in the Revolution, before we knew the horrors of the Terror and before we knew that it would end in the tyranny of Napoleon. Yet, Burke saw it all as it turned out. He died before he had the opportunity to see the outcome. But Burke summed up all the fears and terrors of democracy run wild that scree English democrats. England always worried about the radicals skyjacking their own democratic state. They always worried that a demagogue would appear and sweep everything away: king, queen, nobility, dukes, duchesses, all of it. And the French Revolution with its guillotine seemed to prove real all the fears that English political thinkers had warned about. Burke sums it all up in his Reflections.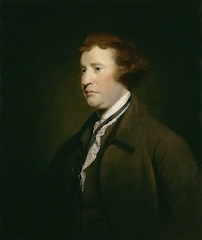 studio of Sir Joshua Reynolds, oil on canvas, (1767-1769)
RECOMMENDED READING
Edmund Burke,
Reflections on the Revolution in France,
Oxford University Press; Reissue edition (June 15, 2009),
ISBN 0199539022

Christopher Hibbert,
Life in Victorian England,
CreateSpace Independent Publishing Platform (December 31, 2016),
ISBN 1541383559