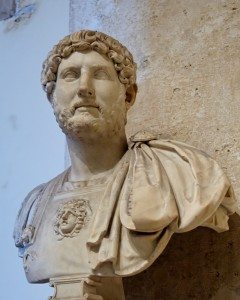 Hadrian (Latin: Publius Aelius Hadrianus Augustus, 24 January, 76 AD - 10 July, 138 AD)
Hadrian was Roman Emperor from 117 to 138. He re-built the Pantheon and constructed the Temple of Venus and Roma. He is also known for building Hadrian's Wall, which marked the northern limit of Roman Britain. Hadrian was regarded by some as a humanist and was a lover of Greek culture in most of his tastes. He is regarded as one of the Five Good Emperors. Hadrian was born Publius Aelius Hadrianus to an ethnically Italian family, either in Italica near Santiponce (in modern-day Spain). His predecessor Trajan was a maternal cousin of Hadrian's father. Trajan never officially designated an heir, but according to his wife Pompeia Plotina, Trajan named Hadrian emperor immediately before his death. Trajan's wife and his friend Licinius Sura were well-disposed towards Hadrian, and he may well have owed his succession to them. During his reign, Hadrian traveled to nearly every province of the Empire. An ardent admirer of Greece, he sought to make Athens the cultural capital of the Empire and ordered the construction of many opulent temples in the city. He used his relationship with his Greek favorite Antinous to underline his love of Greece and led to the creation of one of the most popular cults of ancient times. He spent extensive amounts of his time with the military; he usually wore military attire and even dined and slept amongst the soldiers. He ordered military training and drilling to be more rigorous and even made use of false reports of attack to keep the army alert. Upon his accession to the throne, Hadrian withdrew from Trajan's conquests in Mesopotamia and Armenia, and even considered abandoning Dacia. Late in his reign he suppressed the Bar Kokhba revolt in Judaea, renaming the province Syria Palaestina. In 136 an ailing Hadrian adopted Lucius Aelius as his heir, but the latter died suddenly two years later. In 138, Hadrian resolved to adopt Antoninus Pius if he would in turn adopt Marcus Aurelius and Aelius' son Lucius Verus as his own eventual successors. Antoninus agreed, and soon afterward Hadrian died at Baiae.
RECOMMENDED BOOK
Anthony Everitt is one of the most popular writers among Insitute readers.  His biographies of Cicero and Augustus are excellent.  Here he writes about the Spanish Emperor Hadrian.

Anthony Everitt,
Hadrian and the Triumph of Rome,
Random House Trade Paperbacks; Reprint edition (September 14, 2010),
ISBN 0812978145
From Publishers Weekly:
The author of biographies of Augustus and Cicero, British scholar Everitt now combines academic expertise with lively prose in a satisfying account of the emperor who ruled Rome from 117 to 138 C.E., the man Everitt says has a good claim to have been the most successful of Rome's leaders. As a youth, Hadrian became the protege and adopted ward of future emperor Trajan. (Homosexual emperors, including Hadrian, often adopted a successor, a procedure that worked better than letting pugnacious generals fight it out.) After suppressing the Jewish revolt that had begun under Trajan, Hadrian abandoned several of his predecessor's conquests as indefensible. Traveling the empire, he shored up its defenses, which included building Hadrian's Wall in England and another across Germany. Nearing the end of a prosperous, mostly peaceful reign, he adopted two men who also ruled successfully: Antoninus Pius and Marcus Aurelius. Everitt presents the Roman Empire, in what he calls tempestuous and thrilling times, as an almost ungovernable collection of polyglot nations dominated by ambitious, frequently bloodthirsty and unscrupulous men. Readers will wonder how Rome lasted so long, but they will enjoy this skillful portrait of a good leader during its last golden age. 2 maps. (Sept. 8) Copyright © Reed Business Information, a division of Reed Elsevier Inc. All rights reserved. --This text refers to the Hardcover edition.
"Excellent . . . highly recommended . . . a skillfully analyzed and well-researched narrative." Library Journal
"One gets a clear and compelling sense of Hadrian's times." --"The New Yorker
RECOMMENDED BOOK
If you like historical fiction, this story of Hadrian is a masterpiece by the great French writer Marguerite Yourcenar written as the Memoirs of Hadrian. You will love it.
Marguerite Yourcenar,
Memoirs of Hadrian,
Farrar, Straus and Giroux (May 18, 2005),
ISBN 0374529264
Photo Below: Hadrian's Tomb (Castello St. Angelo)