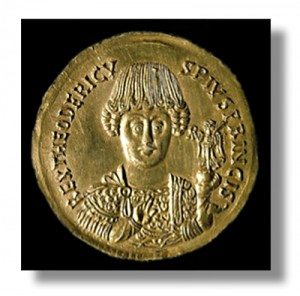 Theodoric the Great (Latin: Flāvius Theoderīcus; 454 – 30 August 526)
Theoderic the Great (454 to 526), often referred to as Theodoric, was king of the Germanic Ostrogoths, ruler of Italy, regent of the Visigoths, and a viceroy of the Eastern Roman Empire. His Gothic name Þiudareiks translates into "people-king" or "ruler of the people". Theoderic was born in Pannonia in 454, after his people had defeated the Huns at the Battle of Nedao. His father was King Theodemir, a Germanic Amali nobleman, and his mother was Ereleuva. Theoderic grew up as a hostage in Constantinople, receiving a privileged education, and he succeeded his father as leader of the Pannonian Ostrogoths in 473. Settling his people in lower Moesia, Theoderic came into conflict with Thracian Ostrogoths led by Theodoric Strabo, whom he eventually supplanted, uniting the peoples in 484. Byzantine Emperor Zeno subsequently gave him the title of Patrician and the office of Magister militum (master of the soldiers), and even appointed him as Roman Consul. Seeking further gains, Theoderic frequently ravaged the provinces of the Eastern Roman Empire, eventually threatening Constantinople itself. In 488, Emperor Zeno ordered Theoderic to overthrow the German Foederatus Odoacer, who had likewise been made patrician and even King of Italy, but who had since betrayed Zeno, supporting the rebellious Leontius. After a victorious three-year war, Theoderic killed Odoacer with his own hands, settled his 100,000 to 200,000 people in Italy, and founded an Ostrogothic Kingdom based in Ravenna. While he promoted separation between the Arian Ostrogoths and the Roman population, Theoderic stressed the importance of racial harmony,though intermarriage was outlawed. Seeking to restore the glory of Ancient Rome, he ruled Italy in its most peaceful and prosperous period since Valentinian, until his death in 526. Memories of his reign made him a hero of German legend as Dietrich von Bern. (The above from Wikipedia.)
PICTURES
Theodoric in Ravenna.
Here below you see a photograph of Theodoric's tomb in Ravenna, the single most elaborate and influential work of architecture of the "Gothic" period of  the late Roman Imperial period. It was a model for Charlemagne's cathedral in Aachen, Germany.
From Wikipedia: The current structure of the mausoleum is divided into two decagonal orders, one above the other; both are made of Istria stone. Its roof is a single 300–ton Istrian stone, 10 meters in diameter. A niche leads down to a room that was probably a chapel for funeral liturgies; a stair leads to the upper floor. Located in the center of the floor is a circular porphyry stone grave, in which Theoderic was buried. His remains were removed during Byzantine rule, when the mausoleum was turned into a Christian oratory. In the late 19th century, silting from a nearby rivulet that had partly submerged the mausoleum was drained and excavated. It was inscribed with seven other "Early Christian Monuments and Mosaics of Ravenna" buildings as one of the UNESCO World Heritage Sites in 1996. According to the ICOMOS evaluation, "the significance of the mausoleum lies in its Gothic style and decoration, which owe nothing to Roman or Byzantine art, although it makes use of the Roman stone construction technique of opus quadratum, which had been abandoned four centuries before" and in the fact that "it is the only surviving example of a tomb of a king of this period."