Amarcord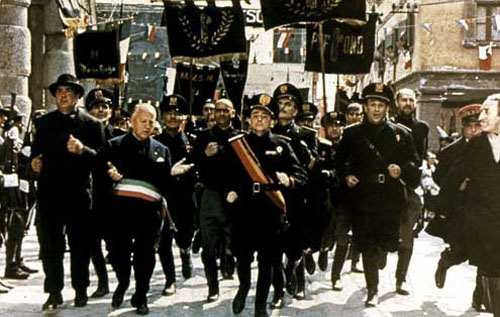 Italy, 1973
Director: Federico Felini
Cast: Pupella Maggio (Mother), Armando Brancia (Father), Ciccio Ingrassia (Uncle), Josiane Tanzilli (Volpina)
Federico Fellini, (January 20, 1920-October 31, 1993) was an Italian film director and screenwriter. Known for his distinct style that blends fantasy and baroque images with earthiness, he is recognized as one of the greatest and most influential filmmakers of all time. His films have ranked, in polls such as Cahiers du cinéma and Sight & Sound, as some of the greatest films of all time. Sight & Sound lists his 1963 film 8½ as the 10th-greatest film of all time. In a career spanning almost fifty years, Fellini won the Palme d'Or for La Dolce Vita, was nominated for twelve Academy Awards, and directed four motion pictures that won Oscars in the category of Best Foreign Language Film. In 1993, he was awarded an honorary Oscar for Lifetime Achievement at the 65th Annual Academy Awards in Los Angeles. (Wikipedia)
Plot Summary from Amazon:
Federico Fellini's 1974 fantasy-memoir of life in his hometown during the Fascist era is basically the full palette of experience–sex, families, politics–with his surreal twist. As a general picture of the 1930's community carrying on rituals, but with an element of government harshness in the air, the film is quite memorable (especially in scenes set around the town square). The ironic title translates into, "I remember," but here memory is more a matter of loving vision than actuality. –Tom Keogh
Fellini was always the most personal, the most autobiographical of all the great twentieth- century directors. In Amarcord, he makes a film that is overtly autobiographical; he remembers his youth in his beachside town of Rimini. This important moment in his life coincides with the rise of fascism in Italy and therefore this carefree childhood remembrance is full of darker shadows, frightening adumbrations of the horrible fate that awaited his beloved nation. I love Fellini above all Italian directors and I think that among all his films this one may be the perfect one.
History of Film at the Institute for the Study of Western Civilization.
William Fredlund, Saturday, July 29, 2006.
Roger Ebert, September 19, 1974: Federico Fellini's "Amarcord" takes us back to the small Italian town of his birth and young manhood, and gives us a joyful, bawdy, virtuoso portrait of the people he remembers there. He includes a character undoubtedly meant to be young Federico — earnest, awkward, yearning with all the poignancy of adolescent lust after the town beauties. But the movie's not an autobiography of a character. It's the story of the town itself. 

We see it first when the dandelion seeds blow in from the fields, signaling the arrival of spring. The townspeople gather in the piazza to build a ceremonial bonfire and burn the witch of winter, and as they dance around the flames in one of Fellini's beloved processions, we get to know them.

They're of all sizes, sexes, and ages, but they're bound together by their transparent simplicity and a strain of cheerful vulgarity. . . . but "Amarcord" isn't a political movie. It is a memory, fond but merciless, of how it was in Italy at a certain time.

It's also absolutely breathtaking filmmaking. Fellini has ranked for a long time among the five or six greatest directors in the world, and of them all, he's the natural. Ingmar Bergman achieves his greatness through thought and soul-searching, Alfred Hitchcock built his films with meticulous craftsmanship, and Luis Buñuel used his fetishes and fantasies to construct barbed jokes about humanity. But Fellini .. well, moviemaking for him seems almost effortless, like breathing, and he can orchestrate the most complicated scenes with purity and ease. He's the Willie Mays of movies.

He did hit upon hard critical times, . . .. I find Fellini's magic spellbinding even when he's only marking time, as he was to some extent in "Roma." But now, with "Amarcord," Fellini returns to the very top of his form. . . . This is a movie for everybody, even those who hardly ever see foreign or "art" films. Fellini's greatest achievement, in my opinion, was "8 1/2." But that was a difficult film that revealed its meaning only after a good deal of thought and repeated viewings.

"Amarcord," on the other hand, is a totally accessible film. It deals directly, hilariously, and sometimes poignantly with the good people of this small town (actually Fellini's birthplace, Rimini).