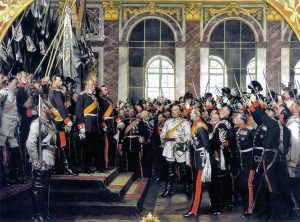 Europe exploded in 1870. A war broke out between France and Prussia. Great Britain tried to maintain neutrality but no one in the royal family was truly neutral. Victoria's children were spread all over Europe and her daughter and namesake, Victoria, was the Crown Princess of Prussia, the aggressor in the war. The ruler of France, Louis Napoleon, was an old friend of Britain and profoundly Anglophile. Many British openly sided with France. Even the Crown Princess of Prussia was accused of rooting for France. But in September, the whole French state collapsed into military defeat and political convulsion. Louis Napoleon was ovethrown in Paris. A new Republic was proclaimed, and the Bonaparte ruler went off to English exile as the guest of Queen Victoria for the rest of his life. Victoria treated Louis Napoleon and his wife with the greatest generosity and kindness. She had deep sympathy for a European monarch who was so suddenly thrown out by the people who had recently celebrated his leadership. In the painting above, you see the leader of the Prussian state announce the formation of the new expanded German state. He announces this good news at Versailles, just to irritate all the French people watching. The new German state is now expanded thanks to new formerly French territory. Louis Napoleon, the former ruler of the French state was now sitting in a German castle-prison.
RECOMMENDED READING

Michael Howard,
The Franco-Prussian War: The German Invasion of France 1870-1871,
Routledge; 2nd ed. (Nov. 9, 2001),
ISBN 0415266718
'No outline can suggest the richness of detail and significance, or the superb command of language with which he invests his chronicle. His book is a masterpiece.' - Sunday Times
'Brilliantly written.' - Julian Critchley, The Week
David Cannadine,
Victorious Century: The United Kingdom, 1800-1906,
Viking (February 20, 2018),
ISBN 052555789X
This new history of the whole of Britain in the 19th century is a political history. It is pure politics and therefore Cannadine can devote great detail to each period. So during the quarter, if you want more information on the prime ministers and the parties it is this book that now furnishes all that information. It is a great work of history but it is too dry to sit down and read all the way through. But it is a perfect reference book for all of us on any political question.