WIKIPEDIA: Victoria (Alexandrina Victoria; 24 May 1819 – 22 January 1901) was Queen of the United Kingdom of Great Britain and Ireland from 20 June 1837 until her death. From 1 May 1876, she adopted the additional title of Empress of India. Victoria was the daughter of Prince Edward, Duke of Kent and Strathearn, the fourth son of George III of the United Kingdom. Both the Duke of Kent and King George III died in 1820, and Victoria was raised under close supervision by her German-born mother, Princess Victoria of Saxe-Coburg-Saalfeld. She inherited the throne at the age of 18, after her father's three elder brothers had all died, leaving no surviving legitimate children. The United Kingdom was already an established constitutional monarchy, in which the sovereign held relatively little direct political power. Privately, Victoria attempted to influence government policy and ministerial appointments; publicly, she became a national icon who was identified with strict standards of personal morality. Victoria married her first cousin, Prince Albert of Saxe-Coburg and Gotha, in 1840. Their nine children married into royal and noble families across the continent, tying them together and earning her the sobriquet "the grandmother of Europe". After Albert's death in 1861, Victoria plunged into deep mourning and avoided public appearances. As a result of her seclusion, republicanism temporarily gained strength, but in the latter half of her reign her popularity recovered. Her Golden and Diamond Jubilees were times of public celebration. Her reign of 63 years and seven months is known as the Victorian era and was longer than that of any of her predecessors. It was a period of industrial, cultural, political, scientific, and military change within the United Kingdom, and was marked by a great expansion of the British Empire. She was the last British monarch of the House of Hanover. Her son and successor, Edward VII, inaugurated the House of Saxe-Coburg and Gotha, the line of his father.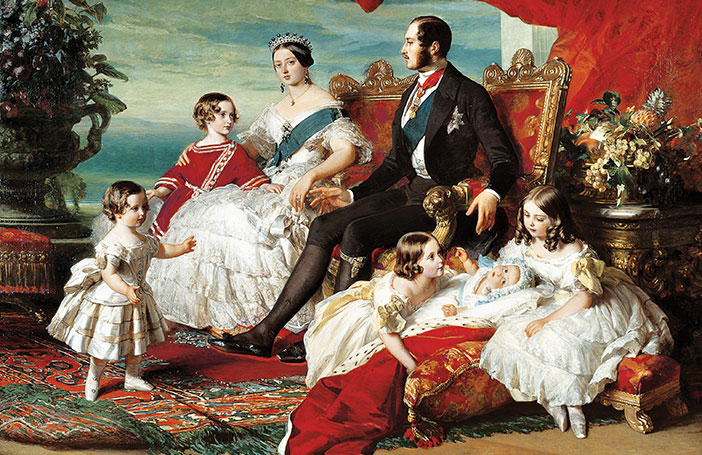 RECOMMENDED READING

Christopher Hibbert,
Life in Victorian England,
CreateSpace Independent Publishing Platform (December 31, 2016),
ISBN 1541383559
RECOMMENDED READING
We are very fortunate to have a new biography of Victoria just in time for our class. Julia Baird has written a masterpiece of a biography about this fascinating and complicated woman. I can tell you that you will love it. The author discovered the real Victoria as opposed to the cartoon character. It is a great book but also a great read. Once you start, you will never want to put it down. The family, the mother, the husband (Oh my god! What a husband!) the tyrants trying to order her around. It is all here and all I can say is: watch out for the next book by Julia Baird.
REVIEWS
"Victoria the Queen, Julia Baird's exquisitely wrought and meticulously researched biography, brushes the dusty myth off this extraordinary monarch. Right out of the gate, the book thrums with authority as Baird builds her portrayal of Victoria. Overturning stereotypes, she rips this queen down to the studs and creates her anew. . . . Baird's Victoria isn't the woman we expect to meet. Her queen is a pure iconoclast: emotional, demonstrative, sexual and driven. . . . Baird writes in the round. She constructs a dynamic historical figure, then spins out a spherical world of elegant reference, anchoring the narrative in specific detail and pinning down complex swaths of history that, in less capable hands, would simply blow away."—The New York Times Book Review
"In this in-depth look at a feminist before her time, you'll balk at, cheer on, and mourn the obstacles in the life of the teen queen who grew into her throne."—Marie Claire

Julia Baird,
Victoria: The Queen: An Intimate Biography of the Woman Who Ruled an Empire,
Random House; 1st Edition edition (November 22, 2016),
ISBN 1400069882