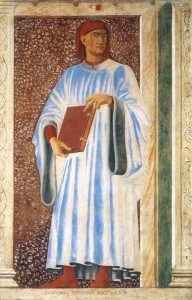 Giovanni Boccaccio was born in 1313, in the small town of Certaldo which is located just south of Florence in the Val d' Elsa. His father was a merchant-banker and in 1326 the family loved to Naples. In this huge bustling international city, young Giovanni went to work in his father's bank to learn about the world of business. But he soon realized he cared nothing about business, so he convinced his father to allow him to enter the University of Naples in order to study Law. Giovanni cared only a little more about the Law than he did about banking, but he loved the university and used his six years there to acquire a brilliant education. Naples was much more international than Florence, with ties to the Islamic world, across teh sea, and to Egypt, to Greece, and the Byzantine empire. And so when Giovanni returned to Florence in 1341, he now possessed a sophisticated education that included knowledge of some Greek, and a knowledge of philosophy, law, and literature. During the next six years, Boccaccio wrote a number of works and attempted to create a career in literature. A professional writer at that time relied on patrons. There was no copyright, no income from one's printed works. So the professional writer looked for financial support from various sponsors: political, religious, private. Then the event that would change his life and his career and his fame hit all of Italy: the Black Death; bubonic plague. Florence was hit as hard as any large city. And in months, the population of this city of 100,000 fell by half. Maybe more. Boccaccio saw it all up close, because his father was serving his beloved city as Minister of Supply, with all the responsibilities of trying to help the desperate population. He died the next year worn out by his work for his city. Boccaccio launched the book that would make him famous in 1349, as his family tried to recover from the Pest and from the death of the patriarch of the family. Boccaccio sat down in 1349 and began to write The Decameron. The success of the book was phenominal. It made its author famous overnight. It is still one of the most popular books ever written in Italian.
SEE BELOW THE LINK TO A PDF COPY OF LECTURE 18, BOCCACCIO
RECOMMENDED READING:
The best paperback edition of the complete work.
This is an excellent edition of selected stories from the Decameron as well as important critical articles from experts on Boccaccio and the most important early biography of him.
This two-volume history of Florence is the best detailed study of one part of Italy for the period we are studying this year. Schevill wrote a masterpiece of well researched narrative history for Florence in 1936 and then it was republished in a Harper Torchbook paperback in 1961. The Harper Torchbook is still out there in used book stores so we have purchase five for our library. But there are still copies left if you want to own one. It is two volumes with the first volume devoted to our period of Medieval History and the second volume on Renaissance Florence.  For the Lombards see Medieval Florence (Volume 1) Chapter Three, "Darkness Over Florence."