Week 28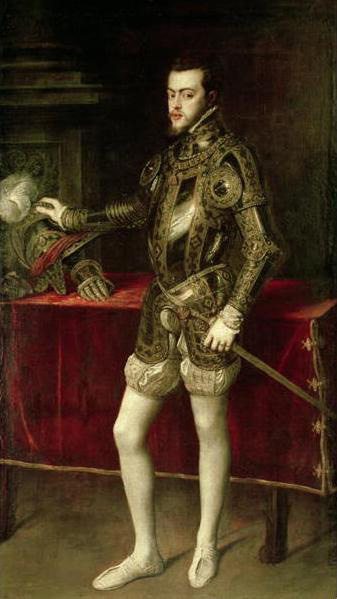 Philip II (Spanish: Felipe II, Portuguese: Filipe I, born 21 May 1527, died 13 September 1598) was King of Spain, Portugal, Naples, and Sicily. During his marriage to Mary I, he was also King of England and Ireland. He was lord of the Seventeen Provinces from 1556 until 1581, holding various titles for the individual territories such as duke or count. Also known as Philip the Prudent, he ruled one of the world's largest empires which included territories in every continent then known to Europeans. Philip was born in Valladolid, the son of Charles V of the Holy Roman Empire, and his consort, Isabella of Portugal. During his reign, Spain was the foremost Western European power. Under his rule, Spain reached the height of its influence and power, directing explorations all around the world and settling the colonization of territories in all the known continents. He was described by the Venetian ambassador Paolo Fagolo in 1563 as "slight of stature and round-faced, with pale blue eyes, somewhat prominent lip, and pink skin, but his overall appearance is very attractive." The Ambassador went on to say "He dresses very tastefully, and everything that he does is courteous and gracious." (Wikipedia)
RECOMMENDED READING:

Henry Kamen,
Philip of Spain,
Yale University Press,
ISBN 0300078005
Editorial Reviews
From Library Journal: The depth of Kamen's research on his subject, who ruled Spain from 1527 to 1598, could overwhelm some readers, as his previous works have done (e.g., The Phoenix and the Flame, Yale Univ., 1993). In this first in-depth biography of Philip II, Kamen's understanding of and acquaintance with the sources is masterly. The author often disagrees with much of the classic beliefs about Philip's personality; for example, his supposed solemnity and predilection for black. (Kamen notes that the king was rarely out of mourning.) However, regarding Philip's reputed cruelty, Kamen says he was hard but "restrained the severity of his officials on numberless occasions," yet he fails to enumerate these occasions. While Philip dominated Spanish politics and culture for more than half a century, Kamen devotes only a few tantalizing pages to the effects of that reign on subsequent events. The audience deserves more of Kamen's insights toward this end. Still, this is a work of marvelous scholarship; highly recommended.
From Booklist: Philip II of Spain has received an almost uniformly bad press; scholars, particularly English and American, generally portray him as a narrow-minded, religious fanatic who reacted with predictable brutality to any stirrings of liberal religious or political thought. Kamen, currently a professor for the Council of Scientific Research in Barcelona, strives mightily to present a more balanced portrait. He scores points in indicating that the supposedly insular Philip traveled widely, mixed socially with Protestants in the Netherlands, and seemed willing to grant them a measure of religious (but not political) toleration. Instead of the absolute monarch often described in diatribes by Anglophiles, Kamen's Philip emerges as a ruler of a fragmented Spain who strived continually to cope with centrifugal forces. Kamen's prose is lucid, succinct, and thorough, without getting bogged down in details that would appeal strictly to specialists. In humanizing a man too often viewed as a cardboard tyrant, Kamen has made a valuable contribution to European historiography.

Geoffrey Parker,
Imprudent King: A New Life of Philip II,
Yale University Press,
ISBN 0300216955
Institute Library Call Number: 946.04 Par IMP
"Through the testimony of Philip's friends, foes, courtiers, and his own words; this authoritative, intelligently revisionist biography must stand now as the primary reference." —Times
"This highly detailed but also immensely readable book has come far closer to that than any previous account of the most enigmatic of Spanish kings." —New York Times Book Review

J. H. Elliott,
Imperial Spain: 1469-1716,
Penguin Books; 2nd edition,
ISBN 0141007036
Institute Library Call Number: 946.20 Ell IMP pb
The most comprehensive, balanced, and accessible account of the dramatic rise and fall of imperial Spain.