Week 24
LECTURER: PROF. BRUCE THOMPSON (UCSC)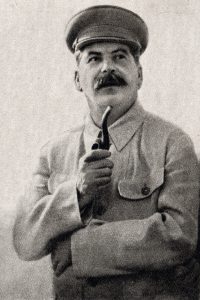 The great historian and biographer Alan Bullock sums up the differences in the leadership and oratorical styles of Stalin and Hitler as follows: "There is a striking contrast in temperament and style between the two men: the flamboyant Hitler, displaying a lack of restraint and extravagance of speech which for long made it difficult for many to take him seriously, in contrast to the reserved Stalin, who owed his rise to power to his success, not in exploiting, but in concealing his personality, and was underestimated for the opposite reason—because many failed to recognize his ambition and ruthlessness."
Stalin had emerged from the civil war with little glory and much power; Trotsky finished with much glory and little power. Stalin, half-gangster, half-bureaucrat, would use power to trump glory: he offered the Bolsheviks non-charismatic leadership, although he continually invoked the sacred authority of the safely mummified Lenin in its support.
"Unlike Hitler, whose unique position as Führer was openly accepted by all the members of the Nazi Party as the linchpin which held them together, Stalin had to conceal his ambition and at the same time find means of defeating any rivals in an unremitting but covert struggle for power, from which, until his fiftieth birthday in December 1929, he could never be sure he would emerge the victor. The role he adopted was that of the plain man who spoke the same practical language as the party workers from the provinces and was accessible to them. Instead of disguising his exercise of power, he personalized it, leaving no doubt as to whose door to knock on. In the same role he represented the voice of common sense and moderation, opposing the exaggeration of the extremists on either side, stressing the need for unity" (Bullock).
RECOMMENDED READING

Leszek Kolakowski,
Main Currents of Marxism,
P. S. Falla,
W. W. Norton & Company; First Edition (January 17, 2008),
ISBN ‎ 978-0393329438
 Leszek Kolakowski's masterpiece, one of the twentieth century's most important books―for the first time in a one-volume paperback. Renowned philosopher Leszek Kolakowski was one of the first scholars to reveal both the shortcomings and the dangers posed by Communist regimes. He now presents, for the first time in one paperback volume, his definitive
Main Currents of Marxism
: "A prophetic work," according to the Library of Congress, that provides "the most lucid and comprehensive history of the origins, structure, and posthumous development of the system of thought that had the greatest impact on the 20th century."

Robert Service,
Lenin: A Biography,
Macmillan paperback, 2010,
ISBN 978-0330518383
REVIEWS
With the help of previously unpublished documents recently released from central party archives, [Service] has managed to skillfully depict the surreal life of an obsessive, brilliant and stubborn individual who usually found himself the champion of the minority opinion within a minority of just a small number of revolutionaries--who, for most of their lives, did not have a revolution in sight. (The Guardian)
In this thorough biography, Robert Service uses the abundant new archival evidence to describe Lenin's personal idiosyncracies, and also to underline, once again, his many ideological contradictions...Service then goes on to show how Lenin betrayed, in practice, virtually all of his paper principles, which had themselves changed several times in any case: far from creating a state in which ordinary workers took decisions about the running of society, Lenin created a totalitarian dictatorship. (Anne Applebaum Sunday Herald)
The wonder of this particular account is that Service succeeds in explaining how Lenin came to [his] determined confidence and the complex and ultimately tragic circumstances that led to the triumph of his ambitions...The most significant contribution of this book is the wealth of personal information that makes Lenin a far more accessible, if not appealing, individual...Such details make Lenin all the more human and so all the more vivid and frightening...Service never allows his narrative to slip into sentimentality or forgets whom he is dealing with. (Joshua Rubenstein Wall Street Journal)
The most authoritative and well-rounded biography of Lenin yet written--and the one that is, in its quiet way, the most horrifying. Oxford historian Service (A History of Twentieth Century Russia) makes good use of Party and Presidential archives that were previously closed to historians. The portrait that emerges therefore has many elements that were either altogether unknown or have only recently emerged...An important study that goes far in tracing the roots of the dire legacy Communism bequeathed to the third of mankind unfortunate enough to have suffered its rule. (Kirkus Reviews)
In Lenin: A Biography, Robert Service argues that Lenin's importance evolved from three major achievements: He led the October Revolution, he founded the Soviet Union, and he laid out the rudiments of Marxism-Leninism...This is a fascinating and engaging book, not the least because it is the first comprehensive Lenin biography to appear since crucial Soviet archives have been opened. (Amos Perlmutter Washington Times 2000-10-30)

Robert Service,
Stalin: A Biography,
Belknap Press: An Imprint of Harvard University Press; Annotated edition (October 31, 2006),
ISBN 978-0674022584
"Here is a life-and-times biography in the grand style: deeply researched, well written, brimming with interpretations. Oxford historian Service, author of an acclaimed biography of Lenin, provides the most complete portrait available of the Soviet ruler, from his early, troubled years in a small town in Georgia to the pinnacle of power in the Kremlin. Most previous biographers have depicted Stalin as a plodding figure whose only distinguishing characteristic was brutality. But Service describes a man who was intelligent and hardworking, who learned from experience and who played an important role in the Russian revolutionary movement...By providing such a rich and complex portrait of the dictator and the Soviet system, Service humanizes Stalin without ever diminishing the extent of the atrocities he unleashed upon the Soviet population."―Publishers Weekly
"For an understanding of Stalin the man, the leader, the Georgian, the Russian nationalist, the revolutionary, the party politician, the mass murderer and the international statesman, and his place in modern Russian history--Robert Service's book is unsurpassed."―Harold Shukman, author of Stalin's Generals
"Service revises every dimension of this multidimensional titan. His book emphasizes the importance of Marxist ideology, economics and Bolshevik culture. But it also rightly presents a human Stalin ... Gritty and unshowy, but enlightened by Service's compelling characterization, magisterial analysis and dry wit, this outstanding biography of lightly worn authority, wide research and superb intuition will be read for decades."―Simon Sebag Montefiore, author of Stalin: The Court of the Red Tsar
"Robert Service's brilliant biography of Stalin is a major work: the fruit of long research, profound insight and understanding of his subject. It offers a truly rounded and thoroughly readable portrait of this monstrous figure."―Andrew Roberts, Daily Telegraph
"This is effectively the first full biography since perestroika to encompass the economic, political, diplomatic, military, administrative and, above all, ideological dimensions, as well as the personal aspects of Stalin's colossal life. Gritty and unshowy, but enlightened by Service's compelling characterisation, magisterial analysis and dry wit, this outstanding biography of lightly worn authority, wide research and superb intuition will be read for decades."―Simon Sebag Montefiore, Sunday Times