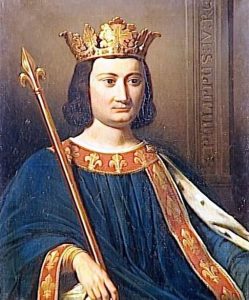 Paris in 1300 was the center of the world.  No European capital had so dominated western culture since the days of Rome and Athens.  The University of Paris was the destination for every scholar in the Latin language world.  The court of the King of France was considered the most sophisticated in the world and other royal families sent their children to be educated in the court of His Most Christian Majesty.  Presiding over this international center of culture and religion was the spectacular King Philip le Bel–Philip the Handsome, Philip the brilliant, Philip the amazing. Philip embodied this nation at its peak of influence and power. And the fame and celebration of France went to the king's head. And he led the nation to heights of power but also to the extreme edge of tyranny.
REQUIRED READING:
Here is an excellent general history of France that will be very useful for our entire year.

Alistair Horne,
La Belle France,
Vintage paperbacks,
ISBN 1400034876
Reviews
"Fascinating. . . . Engaging. . . . Filled with 'hot-blooded' kings, royal mistressesÉand tales of cruelty, treachery and even, occasionally, heart-warming loyalty."
–San Francisco Chronicle
"[Horne] is a virtuoso of the character sketch and the illuminating vignette. . . . La Belle France, with its refreshingly subjective style, possesses more treasures than a whole wall full of textbooks."
–The Wall Street Journal
"A breathtaking tour of French history, from its earliest kings through the Mitterrand government. . . . There are few countries with a more fascinating history than France."
–The Seattle Times
"A useful and charming introduction to a nation that has oh-so-definitely helped make the modern world what it is. . . . Horne does a service in helping the reader navigate the complexities of French history."
–Los Angeles Times
MATERIAL ON THE WEB: