Louis XIV (September 5, 1638 to September 1, 1715), known as the Sun King (French: le Roi Soleil), was King of France and of Navarre. His reign, from 1643 to his death in 1715, began at the age of four and lasted seventy-two years, three months, and eighteen days, and is the longest documented reign of any European monarch. Louis is the image of the great long-lived Ancien Regime. This regime was enshrined at Louis' spectacular creation: Versailles. The world of Versailles, the politics, the art, the gardens were the quitessence of the early modern French state. Every great achievement and every evil that would finally bring the whole structure down in June of 1789 was part of the world of Versailles.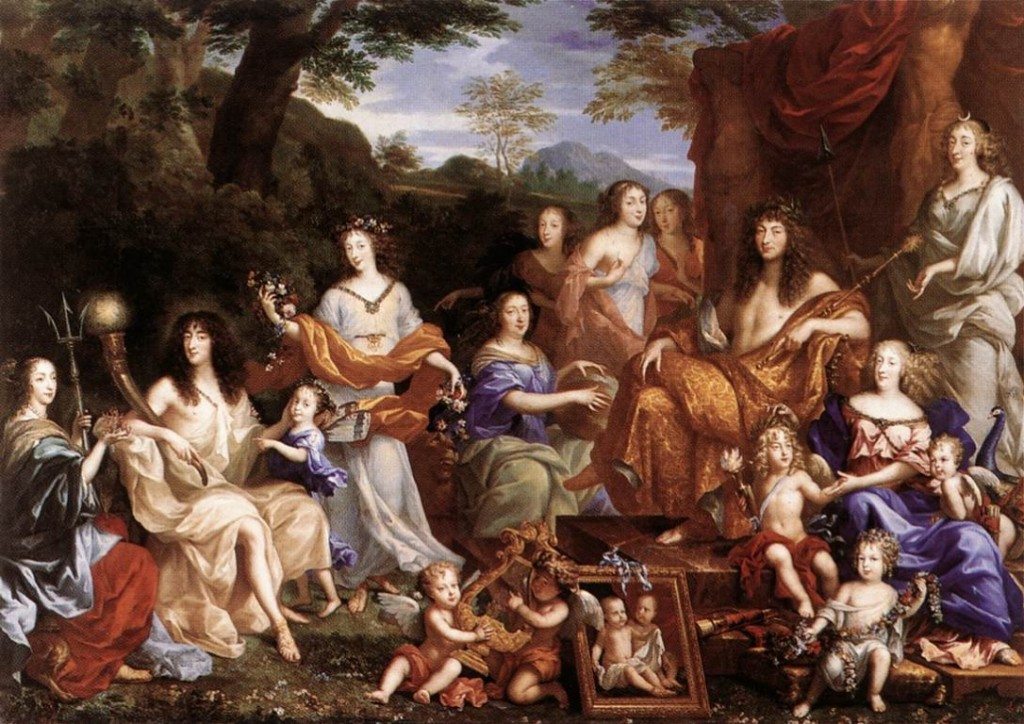 Louis and his family portrayed as Roman gods in a 1670 painting by Jean Nocret.
Left to Right: Louis's aunt, Henriette-Marie; his brother, Philippe, duc d 'Orleans; the Duke's daughter, Marie Louise d' Orleans, and wife, Henriette-Anne Stuart; the Queen-mother, Anne of Austria; three daughters of Gaston d' Orleans (son of Louis XIII); Louis XIV; the Dauphin Louis; Queen Marie-Therese; la Grande Mademoiselle Anne Marie of Orleans, (granddaughter of Henry IV).
HIGHLY RECOMMENDED READING
The best book on Louis XIV and Versailles in English is W. H. Lewis, The Splendid Century.

W.H. Lewis,
The Splendid Century: Life in the France of Louis XIV,
Waveland Pr Inc (January 1997),
ISBN 0881339210